2016, October – Accessible Travel Online Resources (2017 edition)
Fika Safaris is listed in the latest edition of Lonely Planet's Accessible Travel Online Resources. This free e-book, collated by Martin Heng, is the world's largest list of online resources for accessible travel. You can find us under the travel agents and tour operators section on page 67.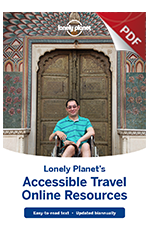 2016, May – Support Beurs 2016 (The Netherlands)
From the 25th until the 28th of May Fika Safaris was present at the Support Beurs 2016. This event is the biggest, most interesting and fun fair in the Benelux for anyone with a physical disability, their environment and people professionally dealing with the limitations that physical disability can impose.
It is here where introduced our concept of accessible safari travel to health care organizations and companies that provide mobility products for people with special needs! As well as keeping up to date with the currents trends and mobility products and services available.
2016, January – Vakantiebeurs 2016 (The Netherlands)
In January 2016 Fika Safaris has been attending the Vakantiebeurs in Utrecht (The Netherlands). The Vakantiebeurs is a major tourism and leisure fair with over 120,000 visitors. Many travel agencies, countries, theaters and cultural associations from all over the world present themselves and their countries here.
Our presence here was our first introduction to the Dutch market and we received lots of positive feedback on our products and services. We were extremely pleased that so many people shown their interested in our regular, but also our 'disability travel' and accessible travel safari services!